Inject AmpliTube and Other Apps into Your Pedal Chain
How would you like to insert your favorite mobile and desktop apps into your pedalboard signal chain? The Orange OMEC Teleport unlocks this ability and more. This compact plug-and-play (no drivers required) USB audio interface packs high-precision AD/DA converters and stereo outputs into its Twinkie-sized chassis. Insert at the end of your chain to capture all your favorite pedals on the way into your virtual amp rack, or use it anywhere as an insert effect. A quality buffered input preserves your signal integrity through long cable runs, while stereo outputs allow you to run out to an amp and house PA/recording medium simultaneously.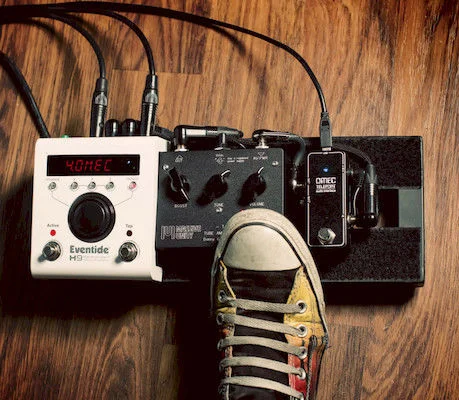 Gig lighter. Perform brighter.
As we see it, the OMEC Teleport meets two major needs. First, it allows the fly-dater and busking musician to travel lighter than ever before — just a guitar, phone, and the OMEC Teleport are all you need to get inspiring Orange amp tone into a PA or travel amp. Second, it gives all musicians the ability to incorporate their favorite apps — amp sims, virtual FX, instruments, and more — into their stage and studio signal chains, in a compact pedal format with familiar bypass switching mechanism.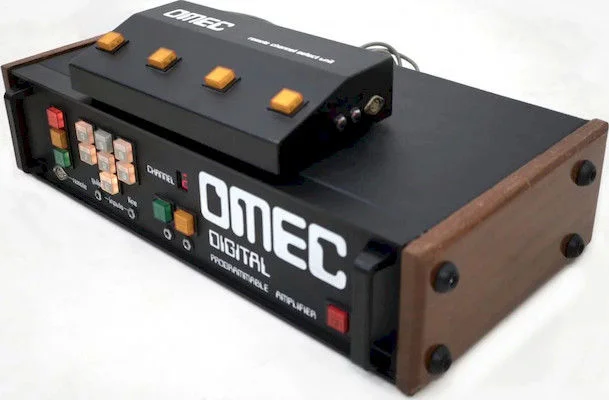 A nod to Orange's digital roots
You may be surprised to learn that Orange — king of the valve amp — pioneered the first digitally controlled guitar amp. It was called the OMEC (Orange Music Electronic Company) Digital, released circa 1975, and was capable of storing and recalling preset sounds. The OMEC Teleport carries on Orange's spirit of digital innovation by allowing today's players to use their favorite virtual racks and FX as easily as a traditional guitar-amp setup.
Includes AmpliTube Orange Edition
Your Orange OMEC Teleport includes a free download of AmpliTube Orange Edition, with four Orange amp models, matching Orange cabs, and a choice selection of stompboxes to generate royally good tone straight out of the gate. This app also features a loop drummer for song building and a single-track recorder (unlockable to eight tracks) to bottle inspiration when it hits.
Orange OMEC Teleport Features:
USB audio interface in a compact pedal chassis
Inject AmpliTube and other apps into your pedal chain
For guitar, bass, keys, and more
Real pedal impedance — won't suck tone or negatively impact response
High-quality AD/DA converters
Mono 1/4″ input
Stereo 1/4″ outputs
Uses a standard 9-volt pedal power supply — not powered by USB
Includes AmpliTube Orange Edition with 4 Orange amps and 7 stomps
For iOS, Android, Mac, and PC
Compatible with the Jam Origin audio-MIDI interface
Tech Specs
Computer Connectivity: 

USB

Form Factor: 

Guitar Pedal

A/D Resolution: 

16-bit/44.1kHz, 16-bit/48kHz

Analog Inputs: 

1 x 1/4″ TRS

Analog Outputs: 

2 x 1/4″ TRS

MIDI I/O: 

USB

USB: 

1 x Type B

Compatibility: 

Android 4.2 or later / iOS 6 or later

OS Requirements – Mac: 

OS X 10.6 or later

OS Requirements – PC: 

Windows 7 SP1 or later

Power Supply: 

9V DC Power Supply (sold separately)

Height: 

1.88″

Width: 

1.45″

Depth: 

3.62″

Weight: 

0.32 lbs.