Stomp on 70 traditional and boutique effects
The Zoom G1X FOUR comes loaded with more than 70 traditional and boutique effects. Add dimension to your sound with delays and reverbs. Give it a polished sheen with a chorus, flanger, or phaser. Or reach for something more esoteric like a ring modulator, pitch-shifting delay, or a sitar simulation — it's all in there. There are also 13 classic amplifier and cabinet models onboard, covering everything from squeaky-clean tranquility to high-gain anarchy. Use up to five effects simultaneously, chained together in any order. And when you've got everything dialed in, you can save up to 50 user-created patches.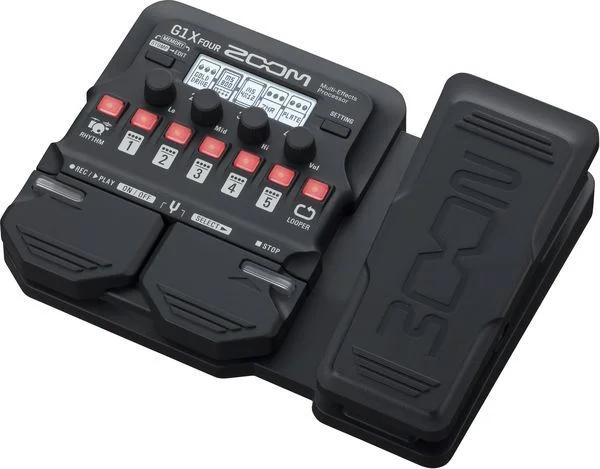 Get inspired with 68 built-in drum patterns
Metronomes are great for keeping time, but they're not very inspiring. That's why the G1X FOUR includes 68 built-in drum patterns. These great-sounding rhythms give you plenty to jam along to, boasting multiple time signatures — 4/4, 3/4, and more.
Craft multi-part arrangements with a 30-second looper
Built-in drum patterns are great for keeping the beat, but they don't do much for harmonic context when you're practicing. But thanks to the Zoom G1X FOUR's onboard looper, you can lay down a chord progression, loop it, then play over it. You can record and loop up to 30 seconds of CD-quality audio, which is more than enough to craft dynamic multi-part arrangements. And don't think that the usefulness of the G1X FOUR's looper is limited to practice sessions — it's an awesome performance tool too!
Zoom G1X FOUR Multi-effects Processor Features:
70+ traditional and boutique effects for adding dimension and polish to your playing
13 classic amplifier and cabinet models covering everything from squeaky-clean to high-gain tones
Expression pedal enables real-time control over volume, wah, delay, and pitch effects
Use up to 5 effects simultaneously, chained together in any order
Save and store up to 50 user-created patches for instant recall
Auto save function ensures that you never lose your latest creation
68 built-in drum patterns in multiple time signatures give you plenty to jam along to
30-second looper allows you to craft multi-part arrangements with CD-quality sound
Create, edit, and manage effects and patches with Zoom's Guitar Lab software
Onboard chromatic tuner supports standard, open, and drop tunings
Auxiliary input jack for jamming along with your personal music player
Tech Specs
Pedal Type: 

Multi-FX

Analog/Digital: 

Digital

Presets: 

50 User, 40 Factory

Number of Effects: 

Over 60 (up to 5 simultaneous), 68 Built-in rhythm patterns

Effects Types: 

Chorus, Vibrato, Phaser, Flanger, Pan, Distortion, Rotary

Amp Modeling: 

Yes

Number of Models: 

13 Amps, 16 Cabinets

Max Delay Time: 

3000ms

Looper: 

Up to 30 seconds

Inputs: 

1 x 1/4″ (instrument), 1 x 1/8″ (aux in)

Outputs: 

1 x 1/4″ (line/headphone)

USB: 

1 x Type Micro-B

Headphones: 

1 x 1/4″

Expression Control: 

Built-in Pedal

Software: 

Guitar Lab 4.0

Compatibility: 

macOS 10.12 or later, Windows 7 or later

Power Source: 

Zoom AD-16 AC adapter (sold separately), USB bus power

Power Usage: 

500mA

Batteries: 

4 x AA

Height: 

1.6″

Width: 

5.1″

Depth: 

6.1″

Weight: 

0.74 lbs. (without batteries)