Add Effects to a Massive Range of Acoustic Instruments
Whether you play the acoustic guitar, saxophone, trumpet, violin, harmonica, or acoustic bass, the ZOOM A1 Four was made with you in mind. This amazing multi-effect processor is jam-packed with more than 80 effects — including 35 acoustic-optimized effects. You've got plenty of processing power on tap, enabling up to five simultaneous effects, chained together in any order. The A1 Four contains 50 memory locations for storing user-created patches, and ZOOM's Guitar Lab software makes building patches a breeze. This unit yields great-sounding, pro-level sound quality during live use, thanks to two performance modes, hassle-free microphone connection, and an anti-feedback filter. You also get a drum machine, 30-second looper, and super-handy chromatic tuner. If you're a live acoustic performer, the ZOOM A1 Four is the multi-effect unit you've been waiting for.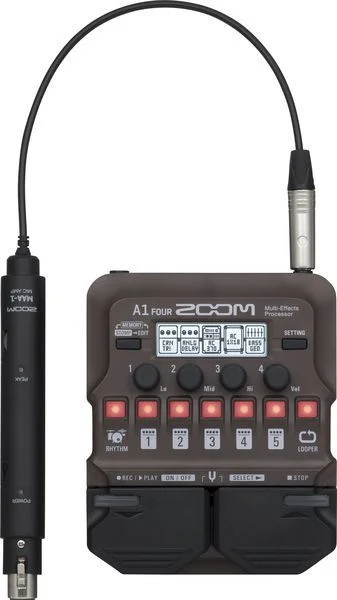 Jam-packed with acoustic-optimized effects — and more
The ZOOM A1 Four is jam-packed with more than 80 effects, 35 of which are tailor-made for specific acoustic instruments, including acoustic guitar, saxophone, trumpet, violin, harmonica, and acoustic bass. With the A1 Four, you can turbocharge your performances with distortion, chorus, wah, and more. Building patches is a breeze, thanks to ZOOM's Guitar Lab software. Playing live with the A1 Four is just as effortless, with two performance modes, hassle-free microphone connection (including phantom power for your condenser mics), and an anti-feedback filter. You also get a built-in drum machine with 68 rhythm patterns and a 30-second looper!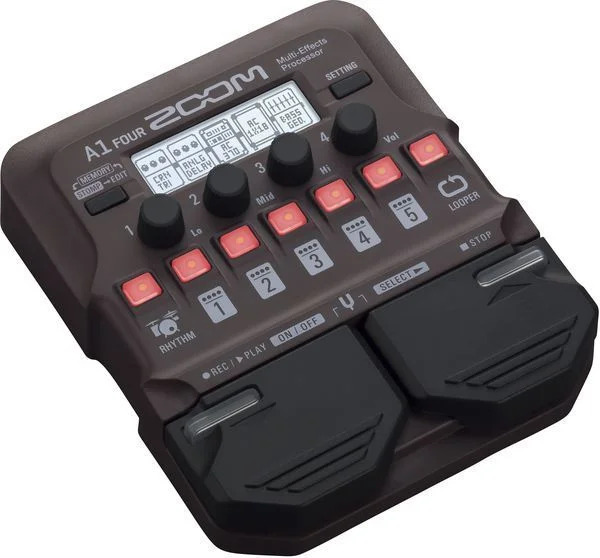 Achieve studio-quality acoustic guitar tone onstage
Your live acoustic guitar tone will sound better than ever, thanks to the A1 Four. Acoustic emulation and modeling add depth and dimension to your sound. The A1 Four employs impulse responses to emulate the sonic fingerprint of a whole slew of popular acoustic guitars, enabling you to replicate your studio tone onstage. You can then shape your sound further with Gain, Bass, Mid, and Treble controls. You can also optimize the A1 Four's processing to accommodate piezo or magnetic pickups. The A1 Four includes 15 factory presets for acoustic guitar, and 13 more are available via ZOOM's Guitar Lab software.

Elevate your violin and double bass to new heights
If you have the A1 Four, Jerry Goodman-eque violin tones are right at your fingertips. Transform your violin into a full string symphony. Tear through explosive distorted solos. Best of all, the A1 Four's violin-tailored distortion effects preserve your bowing attack, which is essential for expressive playing. Acoustic double bass players can get in on the action, too. Whether you play classical, rockabilly, or symphonic metal, the A1 Four yields the focused highs and rich lows you need to deliver an earthshaking performance.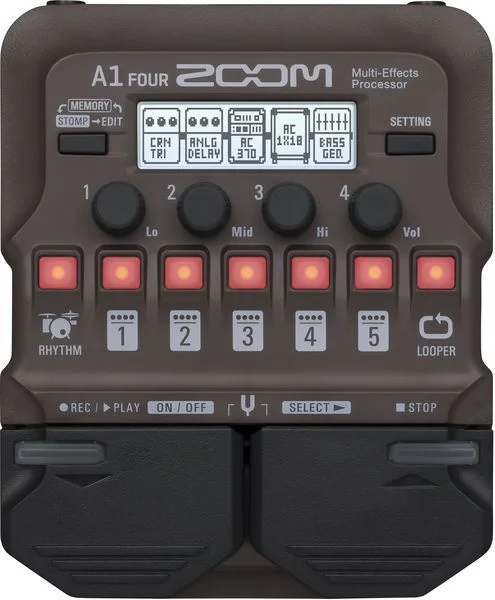 Add new soundscapes to sax and trumpet
Running your saxophone through the ZOOM A1 Four gives you access to a whole horde of exciting soundscapes. Gritty, rock 'n' roll sax growl? It's in there. Double-tracked jazz fusion-style textures? It can do that, too. You also get EQ and compression for maximizing your instrument's impact. Beyond that, the trumpet players really dig the A1 Four. And why is that? Two words: wah-wah. The A1 Four's trumpet-optimized wah effects not only offer endless fun, they're guaranteed to add excitement and inspiration to your performances.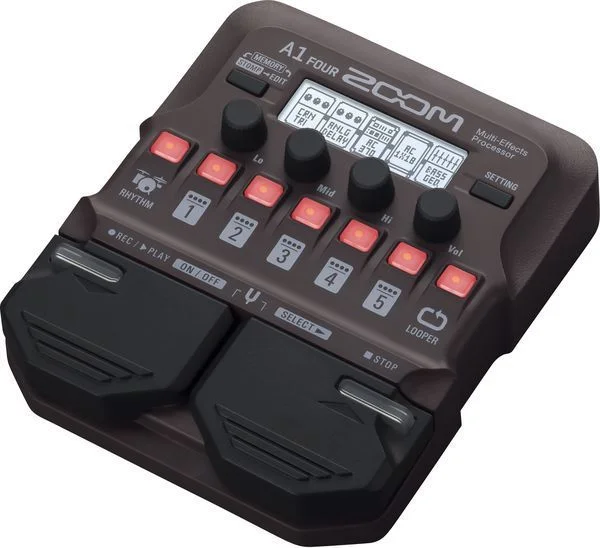 Infuse your harmonica with incredible grit and soul
The ZOOM A1 Four also breathes life into your harmonica playing. Unleash punchy, mid-forward blues harp tones. Replicate Stevie Wonder's famous chorused harmonica sound. You can also emulate the warm, uber-amplified sound of a Green Bullet — even through your regular vocal mic.
Zoom A1 Four Features:
Jam-packed with 80+ effects — including 35 acoustic-optimized effects
Dedicated presets for acoustic guitar, saxophone, trumpet, violin, harmonica, and acoustic bass
Up to 5 simultaneous effects, chained together in any order
50 memory locations for storing user-created patches
ZOOM's Guitar Lab software makes building patches a breeze
2 performance modes enable effortless toggling between patches and effects
Hassle-free microphone connection with phantom power for your condenser mics
Anti-feedback filter ensures great-sounding, pro-level sound quality
Drum machine with 68 rhythm patterns
30-second looper allows you to create dynamic, multi-part arrangements
Chromatic tuner supports all standard guitar tunings
USB port for firmware updates, power, and connection to ZOOM's Guitar Lab software
Tech Specs
Type: 

Acoustic Instrument Multi-FX

Analog/Digital: 

Digital

EQ: 

3-band EQ, Graphic EQ

Effects Types: 

80 x Effects, 5 x Simultaneous ; Dynamics, Filters, Overdrives, Amp Models, Cabinet Models, Modulation, Delay, Reverb, SFX

Presets: 

50 x User Patches, Acoustic Body Modeling, Sax, Trumpet, Violin, Harmonica, 68 x Rhythm Patterns

Looper: 

30 seconds

Inputs: 

1 x 1/4″ (instrument), 1 x 1/8″ (aux in) ; MAA-1: 1 x XLR (mic)

Outputs: 

1 x 1/4″ (line out/headphones)

MIDI I/O: 

USB

USB: 

1 x Type Micro-B

Bypass Switching: 

Buffered

Software: 

Zoom Guitar Lab Patch Editor (Mac/PC)

Power Source: 

9V DC power supply (sold separately) / USB powered (some functions limited)

Batteries: 

4 x AA batteries ; MAA-1: 2 x AA batteries

Height: 

1.65″

Width: 

5.11″

Depth: 

6.14″

Weight: 

0.75 lbs. (without batteries)