The POD Go Goes Wireless!
The Line 6 POD Go Wireless equips the wildly popular Helix-family POD Go modeling floorboard with a powerful integrated Relay wireless guitar system to give you complete wireless freedom onstage (up to 100 feet). Just think: with the POD Go Wireless, you're totally (and tonally) untethered from the confines of the cable.
The Line 6 POD Go Wireless pairs traditional controls with a large color LCD to let guitar and bass players interact with their virtual amps, stomps, and cabs in new and meaningful ways. Whether you're running live effects into a stage amp, recording and re-amping through modeled amps and cabs, or outputting rich Helix-derived tones directly from the stage to the PA, the POD Go Wireless has you covered. The price and simplicity of the POD Go Wireless tailor this floor processor to players who have been on the fence about diving into the Line 6 ecosystem; despite boasting a premium HX Family sound library — the Blackface, Plexi Lead, Treadplate, and all your favorites are here — there's only a short learning curve standing between the POD Go Wireless and total integration with your rig. Who knows? Once you experience the freedom of gigging out with nothing but the guitar on your back and the Line 6 POD Go Wireless at your feet, you may never drag an amp — or cable — out of your practice space again.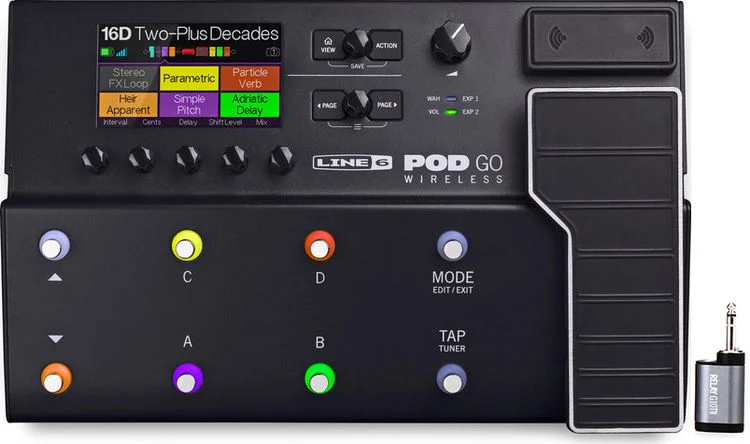 POD Go Wireless Floorboard. Meet your new performance rig!
Full disclosure: nobody loves a British stack or TV-Front Tweed more than guitarists. But in a performance setting, there are so many factors — room acoustics, microphones, sight lines, atmospheric conditions, and sound personnel — standing between the "sound" of your amp and the way it's heard in a mix. The Line 6 POD Go Wireless eliminates the hassle of loading up and gigging out by giving you stunning re-creations of some truly timeless amp tones. Sag, chime, harmonics, dynamics, crunch — Line 6 has done a great job of capturing the tone and, just as importantly, the feel of playing through these real tube amps. Onboard cabinet models, stompbox effects, and analog/digital outputs equip the POD Go Wireless to be the only piece of gear you record and gig out with, or one of several parts in a live amp chain. Expandable features include a headphone output for silent monitoring, an effects loop for incorporating real-deal effects pedals, and a dry amp output for monitoring through a live amp while sending modeled tones straight to FOH.
Helix-derived amps and stomps
The Line 6 Helix floor processors have been a major hit with guitarists, and the industry over, for that matter. Now you can access a heaping helping of these iconic tones without the all-in size and price tag. Inside the POD Go Wireless, you'll find more than 270 Helix and legacy models of your favorite classic amps, stomps, and cabs. These you can mix and match in endless arrangements for dream tones never possible from a traditional rig. All models are designed to sound great in a traditional amps-and-stomps guitar chain or on their own, sent directly to a PA or computer.
Lightweight, tour-tested performance
As with every latter-day Line 6 floor processor, the POD Go Wireless gives you bulletproof construction, eight tour-grade rugged footswitches, and a cast aluminum expression pedal that's rated to survive life on the road. Yet for all its strength, the POD Go Wireless remains remarkably light and compact — the perfect throw-and-go unit for a backpack or suitcase guitar traveler.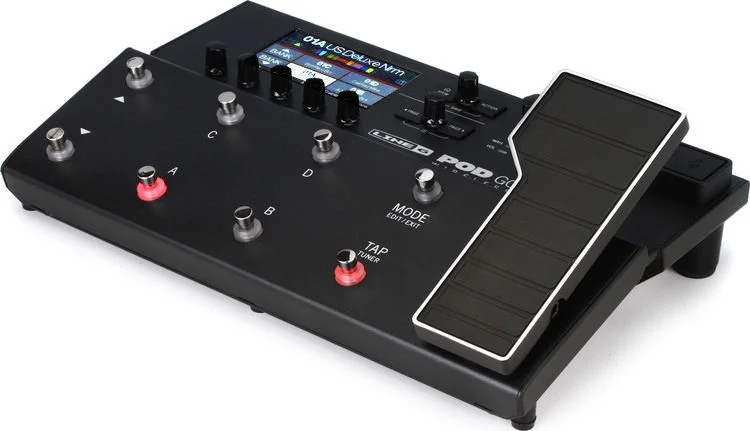 Large full-color screen
A drawback to lesser floor units is having to squint to see that one line of monochrome text as it flies by between patch changes. But that's not the case with the Line 6 POD Go Wireless. Its full-color screen reads out your full signal chain at a glance, and with a powerful backlight that's easy to read even on a dark and hazy stage.
Onboard expression pedal
The POD Go Wireless's integrated expression pedal injects the player's heart and soul into every performance. From volume swells and rotary accelerations to landing the perfect Mick Ronson cocked-wah sound, the expression pedal adds a ton of potential to the POD Go Wireless's powerful amps and effects. And if you're the type of player who wants more expression, then you can always add a second expression pedal (sold separately) down the line for dedicated wah/volume foot control.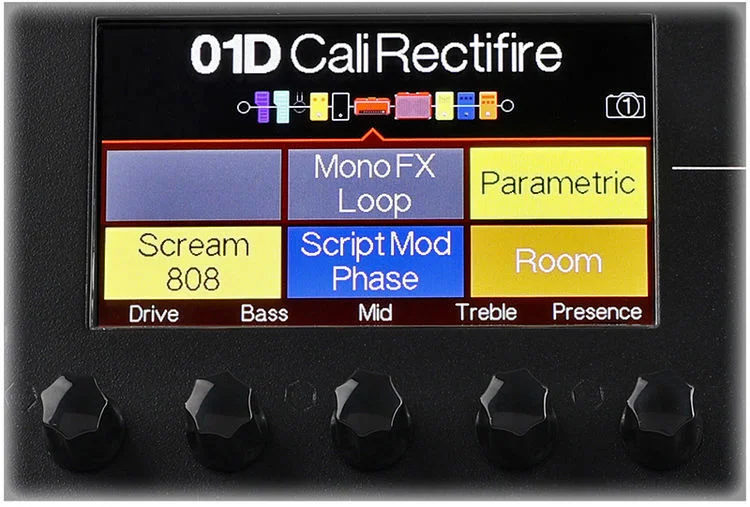 Recall tones with Snapshots
Achieving total recall on an analog setup is tough. And even then, all it takes is a thoughtless bandmate grabbing a knob or moving a pedal to completely trash your hours of hard work. Fortunately, the Line 6 POD Go Wireless gives you the tools you need to craft countless guitar rigs and recall them in a flash. The Snapshots feature doesn't just let you pull up tones a song at a time — here you can set verse, chorus, and lead tones and access them on a section-by-section basis, all in real time. Snapshots is just another way in which the Line 6 POD Go Wireless can greatly enhance your performance life.
USB audio interface with re-amping
Floor units like the Line 6 POD Go Wireless excel in the recording environment. There are no amps to set up, no time-consuming mic placement rigamarole — just dial up your favorite sounds and connect to a laptop via USB (cable included). Now you can track guitar parts direct into a DAW session in pristine 24-bit/96kHz stereo quality. Or, for greater expandability, you can track your parts dry and take advantage of the POD Go Wireless's re-amping capabilities for endless tonal variation down the road.
Third-party IR support
A guitar cab and its speakers account for roughly 33% of a total guitar sound (guitar and pedals plus amp plus cab = sound). Thankfully, the POD Go Wireless gives you room grow. Support for third-party guitar cabinet impulse responses (IRs) means you can drop in all your favorite closed- and open-back cabs with whatever speaker combinations you can imagine. And with the leaps and bounds today's IR manufacturers are making in cab tones, this one feature more or less ensures the Line 6 POD Go Wireless a permanent place in your rig.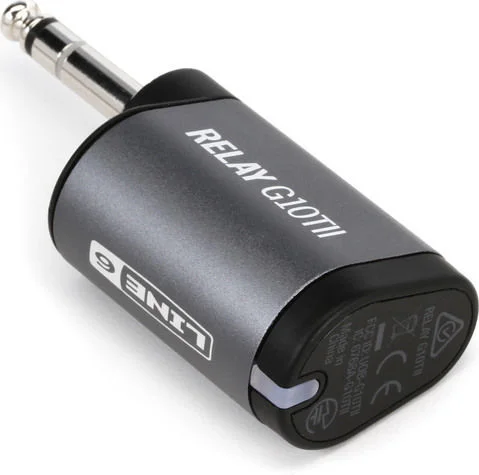 Integrated Digital Wireless Guitar System. Up to 100 feet of wireless freedom!
One of the key upgrades to the Line 6 POD Go Wireless is its integrated Relay G10S-level digital wireless guitar system. Pop the included 7-hour rechargeable G10TII transmitter into your guitar, set the pairing to "Auto" (or designate a channel), and you're ready to rock. There's no extra gear to buy, nothing to haul in a rack. The POD Go Wireless's receiver is mounted just in front of the expression pedal to give you a clear line of sight — up to 100 feet — between your axe and board. That's a massive range to explore the stage without cables underfoot.
Charges directly from the floorboard
The POD Go Wireless's included Relay G10TII transmitter nets you around seven hours of wireless playtime per charge. The transmitter charges directly from the POD's 1/4″ instrument input and docks inside a molded storage well for safe travel. Just plug in the transmitter after soundcheck or top it off the night before, and you've got the juice you need to make it through the gig. Here's what you can expect:
30 minutes of runtime on a 15-minute charge
60 minutes of runtime on a 30-minute charge
A full 7 hours of runtime on a 3-hour charge
Of course, you can always plug a cable straight from your guitar into the input if you find yourself running short on battery life.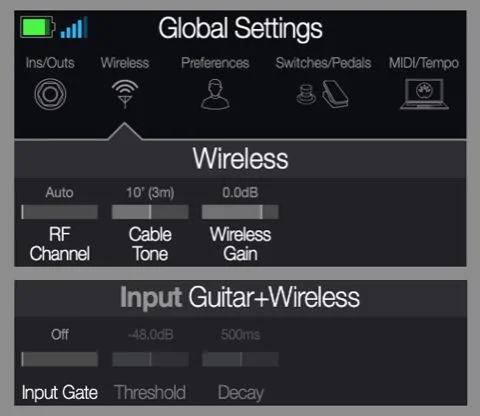 Fast, easy setup
Automatic or manual frequency selection within the POD's Wireless menu gives you plenty of setup options. There you'll also find a signal strength meter and battery level LED to keep you apprised of your runtime at a simple glance.
Cable Tone: the sound of a cable — without the cable!
Instrument cables add an undeniable character to your guitar and bass tone. Fortunately, the POD Go Wireless sports Line 6's selectable Cable Tone technology, which simulates the subtle tonal effects of a standard 10- or 30-foot cable, giving you the freedom to rock from stage left to stage right — while sounding just like you're wired. You can also bypass Cable Tone altogether in the POD Go Wireless and experience a totally flat frequency response like nothing never heard through a traditional rig.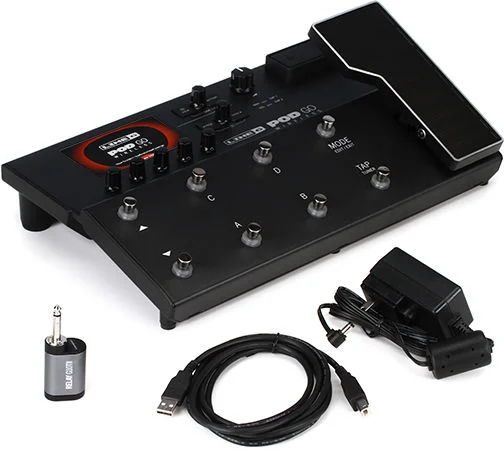 Line 6 POD Go Wireless Floor Processor Features:
Streamlined floor processor with more than 270 Helix and legacy amp, stomp, and cabinet models
Integrated Relay digital wireless guitar system gives you up to 100 feet of wireless freedom onstage
Transmitter charges from and stores inside the floorboard
7 hours of wireless performance on a single 3-hour charge
Lightweight, tour-grade build quality
Designed to sound great into an amp or PA
Captures the tone and feel of playing through real tube amps and pedal effects
Large color screen is easy to see from standing position, even in the dark
Onboard expression pedal unlocks dynamic wah, volume, and rotary effects
Snapshots feature lets you save and recall tones for each section of a song
Supports third-party cabinet impulse responses for greater expandability
4 x 4 USB audio interface delivers tones directly into a recording session in 24-bit/96kHz
Onboard effects loop and headphone output
Dry amp output lets you monitor through a traditional rig while sending processed tones to FOH
Tech Specs
Pedal Type: 

Multi-FX with Wireless System

Analog/Digital: 

Digital

Presets: 

256 (2 setlists with 32 banks x 4 presets

Number of Effects: 

200+ effects (Helix & Legacy combined), Up to 10 simultaneous FX (6 fixed, 4 flexible)

Effects Types: 

Overdrive, Distortion, Fuzz, Tremolo, Flanger, Chorus, Vibrato, Rotary, Phaser, Delay, Reverb, Modulator, Filter/Wah, Harmonizer

Amp Modeling: 

80+ Guitar/Bass Amps, 39 Cabinets, 16 Mic Models

Impulse Response: 

Custom/3rd Party IR Support, Store up to 128 IRs

Looper: 

40 seconds (mono), 20 seconds (stereo) ; 6-switch Looper, 1-switch Looper, Shuffling Looper

Inputs: 

1 x 1/4″ (instrument/G10T charging), 1 x 1/4″ (FX return/aux stereo)

Outputs: 

2 x 1/4″ (L/mono,R), 1 x 1/4″ (amp out), 1 x 1/4″ (FX send stereo)

MIDI I/O: 

USB

USB: 

1 x Type B 2.0 (4 x 4 including monitor channels)

Headphones: 

1 x 1/4″

Other I/O: 

1 x 1/4″ TRS (expression2/footswitch)

Expression Control: 

Built-in Pedal

Features: 

400MHz SHARC DSP Processor

Software: 

Pod Go Edit App

Compatibility: 

Windows, macOS

Power Source: 

9V DC power supply (included)

Height: 

3.46″

Width: 

14.1″

Depth: 

9″

Weight: 

5.2 lbs.