Compact Modeling/FX Unit from the Helix Family of Processors
The brains and brawn* of the award-winning Helix family comes to a board-friendly 3-switch stomp in the Line 6 HX Stomp. The HX Stomp makes the ultimate standalone travel rig, a fully loaded modeling and FX engine to front-load an amp, and a capable audio interface with re-amping capabilities. Choose up to six blocks — amps, cabs, and stomps — per preset, and assign switches to suit your particular needs. The HX Stomp is equipped for real-world gigging applications with 126 user presets for guitars, bass, and keys; and tons of I/O, which include TRS balanced outs, traditional MIDI switching, an FX return for 4-cable amp integration, and a 2-channel expansion jack for expression pedals or additional external switches.
*The HX Stomp is powered by a single SHARC ADSP-21469 processor, versus the Helix's two.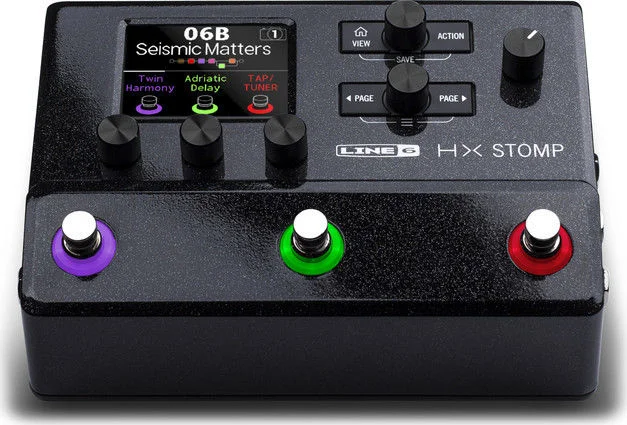 Over a hundred inspiring presets
Not only does the HX Stomp give you 126 presets for real-world gigging applications, but it also comes loaded with heaps of great tones for instant inspiration. Stock presets are organized by instrument (guitar, bass, keys, acoustic) and application (direct to PA, 4-cable amp routing, etc.), which makes it fast and intuitive to dive in and find tones.
4-cable amp integration
Modern ampists rejoice! The HX Stomp has integrated support for 4-cable amp integration. This allows you to front-load your FX loop-equipped guitar head with stomps traditionally reserved for the front end of an amp (drives, EQs, filters, wahs, and fuzzes), and back-end effects that tend to sound best after an amp's preamp section (delay, reverb, and modulation). Not only that, but several of the HX Stomp's presets are also preconfigured for the 4-cable method, which provides a pre-routed template from which to create custom patches.
Exhaustive I/O
The HX Stomp is much more than a multi-effects amp modeler. Though it can easily replace your current board into the front end of your amplifier, it also boasts enough I/O and control to take the lead in even the most complex guitar setups. Here's what you get:
Stereo TS ins and balanced TRS outs minimize noise into guitar and pro-level gear
FX loop lets you incorporate your favorite stomps anywhere in your chain
MIDI in/out for traditional MIDI switchers or advanced performance integration
TRS expression pedal/footswitch jack lets you connect up to two external expression pedals (volume and wah, for example) or expand your switching options by two
USB connection for computer-based patch management and effortless firmware updating
Capacitive touch footswitches
Following Helix's lead, the HX Stomp boasts three capacitive touch footswitches to make editing and recalling presets easier than ever. Simply touch the switch you want to adjust, make the necessary changes, and save. It couldn't be simpler. And to keep track of your tones and changes, Line 6 outfitted each of the switches with bright color-coded LEDs. No matter how dark or bright the stage is, you'll always know what function each footswitch is controlling.
Multichannel USB interface
You can dramatically streamline your recording setup with the Line 6 HX Stomp on your studio desk. Dialing in tones is as fast and intuitive as on the stage. Meanwhile, USB connectivity and future-looking 24/96 headroom and clarity preserve your recordings for later generations to enjoy.
True bypass switching
For picky pedalists, the HX Stomp makes a truly board-worthy stompbox. True bypass switching eliminates unwanted coloration between your other stomp effects, so you can integrate the HX Stomp's advanced pedal, amp, and cab models into your setup with the quality of your signal intact.
Third-party cab IR support
The HX Stomp includes support for third-party cab IRs. Now fresh tones and inspiration will always be just a click away.
A proud part of the Helix family
With the entire library of models from the Helix family at your behest, you'll never be at a loss for tone with the HX Stomp. All effects and models are processed through the HX audio engine, ensuring every single swell of a modulation effect, response of an overdrive, or decay of a delay feels convincingly like the unit it's modeling. Take your place at the Helix family table with the easy-traveling Line 6 HX Stomp.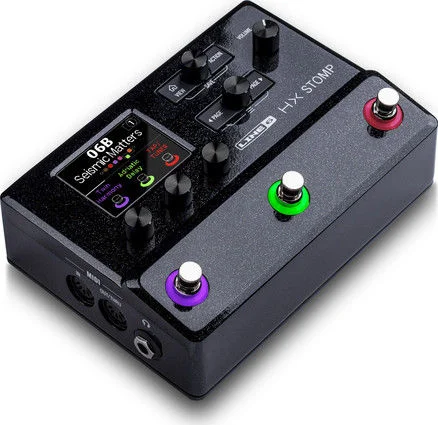 Line 6 HX Stomp Features:
The processing power of the Helix family in a compact 3-switch stomp
The ultimate standalone travel rig, or a balanced part of any pedalboard/amp setup
7″ x 5″ x 2.5″ aluminum chassis — slightly larger than a paperback novel
300+ onboard amp, cab, and stomp models from the Helix family, M-series, and legacy Line 6 products
126 presets to cover real-world gigging applications
Choose up to 6 blocks per preset
24/96 HX audio engine delivers pristine quality and realistic modeling
Brilliant 2.4″ full-color display
FX loop for front- or back-loading stomp effects
Preconfigured 4-cable amp integration
True stereo performance from input to output
MIDI capability for traditional switchers and advanced performance integration
Doubles as a USB audio interface with re-amp capabilities
True bypass switching eliminates tone suck on your pedalboard
Convenient computer-based patch management and firmware upgrades
Tech Specs
Pedal Type: 

Multi-FX with USB Interface

Analog/Digital: 

Digital

Presets: 

126 (42 banks x 3 presets), 3 Snapshots per preset

Number of Effects: 

Over 300 (effects & modeling combined)

Effects Types: 

123 Helix, 77 Legacy, 6 simultaneous FX

Amp Modeling: 

77 x Amps, 37 x Cabinets, Impulse Response support

Looper: 

60 seconds (mono), 30 seconds (stereo)

Inputs: 

2 x 1/4″ (L/mono,R), 2 x 1/4″ (L/R, aux in)

Outputs: 

2 x 1/4″ (L/mono,R), 1 x 1/4″ (stereo send)

MIDI I/O: 

In, Out/Thru

USB: 

1 x Type B (8 x 6)

Headphones: 

1 x 1/4″

Other I/O: 

1 x 1/4″ TRS (expression/footswitch)

True Bypass: 

Yes

Bypass Switching: 

DSP Bypass (switchable)

Features: 

24-bit/192kHz converters, SHARC DSP Processor

Software: 

HX Editor (librarian, IR loader)

Compatibility: 

Windows, macOS

Power Source: 

9V DC power supply (included)

Height: 

2.6″

Width: 

7.01″

Depth: 

4.96″

Weight: 

1.75 lbs.