Signature 15W Amp Head from Brent Hinds of Mastodon
With two channels, four preamp tubes, and switchable 15-/7-/1-/0.5-watt operation, the Orange Brent Hinds Terror cooks up a dramatic range of clean, crunch, and chaotic tones at stage or bedroom volume levels. Brent's contributions include a tribal forehead tattoo, script signature, and Mastodon logo, as well as the unique sonic character contained within. The Natural channel delivers classic Orange chime with unlimited capacity for breakup. Enabling the Dirty channel unleashes the beast below, with oppressive crunch and laden lead potential. Unique to this Terror is a 3-band EQ, which helps carve out space in a multi-guitarist ensemble, and a Headroom/Bedroom switch, which drops output to a smoking-hot single watt for realistic tube sag and response at home and recording levels.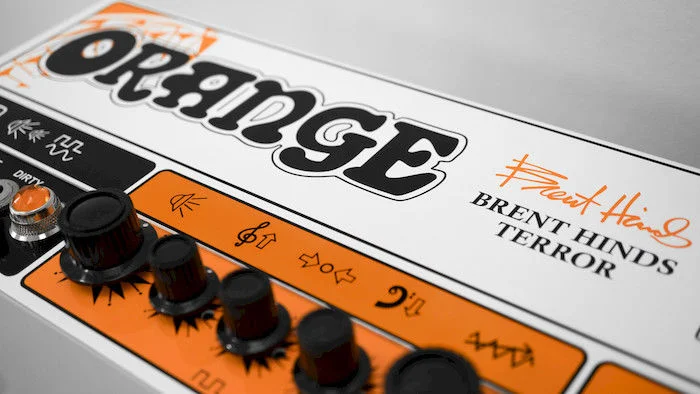 Two channels of Mastodon-fueled tone
The Orange Terror series has enjoyed a diverse and ever-growing roster of artists and sonic signatures. The latest in these, the Brent Hinds Terror, is bold and loaded for bear. Natural and Dirty channels, fueled by four preamp tubes, two output tubes, and a unique control set that includes a 3-band EQ, equip this amp for delicate chording to full-bore shredding.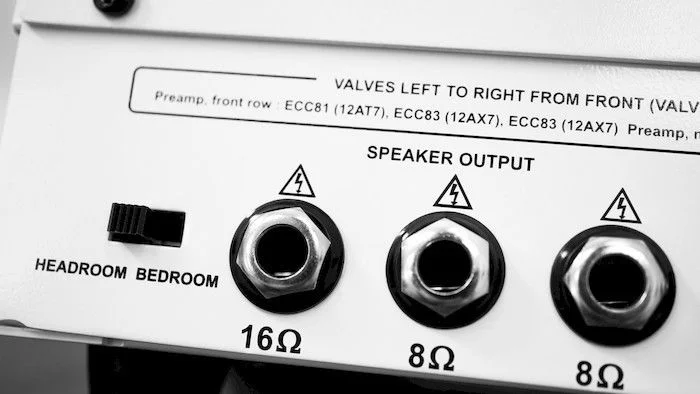 15 watts for the stage. 1/2 watt for the home.
The Headroom/Bedroom (attenuation) switch drops this Terror's stage-ruling 15-watt output to a controlled single-watt purr. With this feature, the Brent Hinds Terror succeeds in bringing cranked-tube tone and response to bedroom players and recording enthusiasts everywhere. A front-panel switch halves wattage in either mode, adding 7- and half-watt operation into the mix for even greater versatility.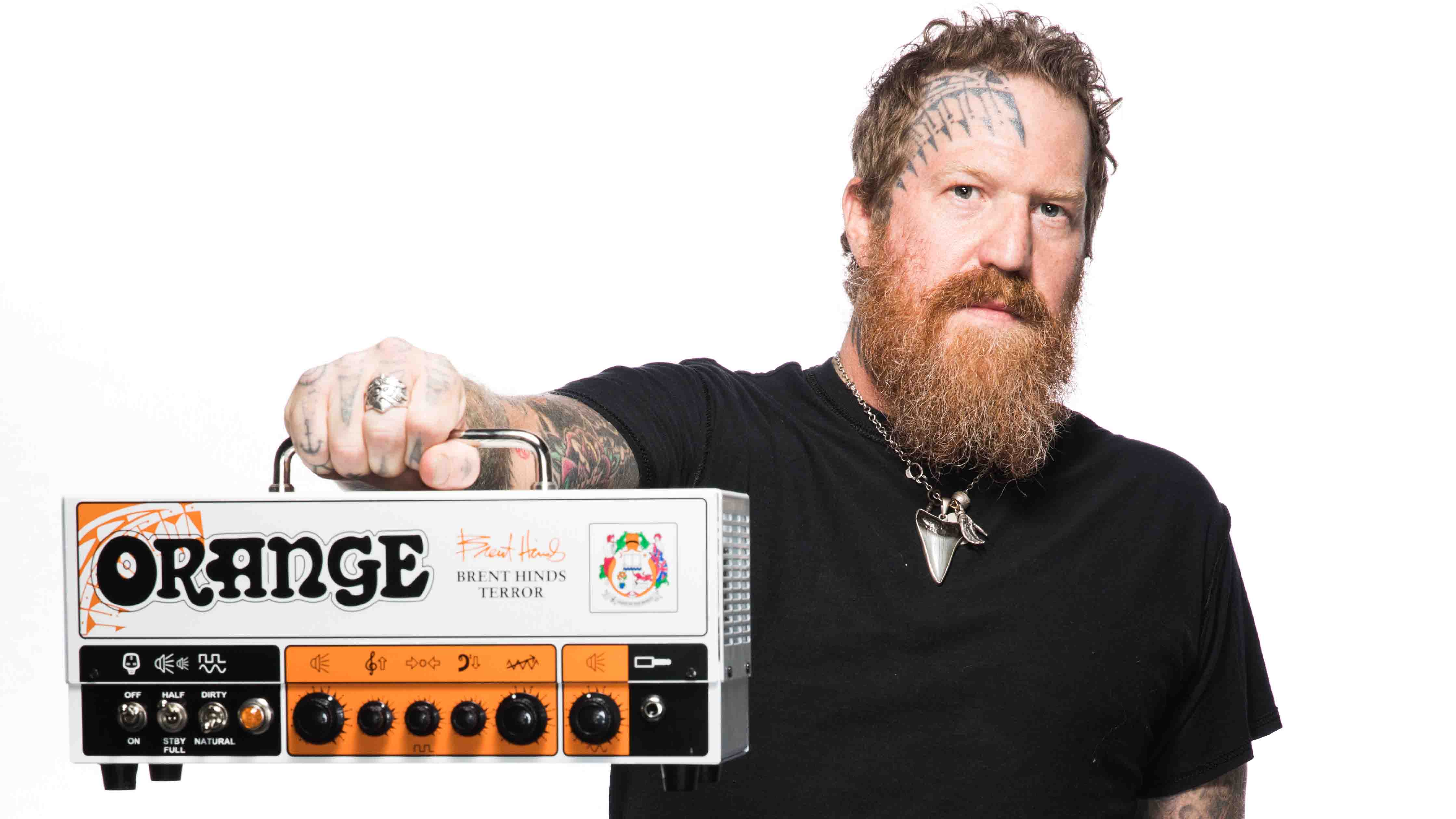 3-band EQ
Separate Bass, Middle, and Treble controls make the Brent Hinds one of the easiest Terrors to rein in. Push your tubes or shape the way your guitar interacts with the environment.
Tube-buffered effects loop
Run your reverb and delay stompboxes directly into the effects loop of your Brent Hinds Terror. A tube buffering stage lowers noise and raises headroom, with subtle shades of tube-y goodness. Equip yourself for a new reign of Terror with this Brent Hinds signature Orange amp.
Orange Brent Hinds Terror Features:
Signature head from Brent Hinds (Mastodon)
The latest addition to the Orange Terror series of amps
Bears the visual and sonic likeness of its namesake
Natural and Dirty channels cook up a dramatic range of clean, crunch, and chaotic tones
Powered by four preamp (3 x 12AX7, 1 x 12AT7) and two output (EL84s) tubes
Switchable 15-, 7-, 1-, and 0.5-watt operation equip this amp for the stage to the bedroom
3-band EQ carves out space in a mix
Tube-buffered effects loop is stompbox ready
Footswitch jack for optional footswitch (not included)
8-ohm (x2) and 16-ohm speaker outs
Tech Specs
Type: 

Tube

Number of Channels: 

2

Total Power: 

15W (7W/1W/0.5W power settings)

Preamp Tubes: 

3 x 12AX7, 1 x 12AT7

Power Tubes: 

2 x EL84

EQ: 

3-band EQ

Effects Loop: 

Tube buffered

Inputs: 

1 x 1/4″

Outputs: 

2 x 1/4″ (8 ohm), 1 x 1/4″ (16 ohm)

Footswitch I/O: 

1 x 1/4″ (channel)

Footswitch Included: 

No

Power Supply: 

Standard IEC AC cable

Height: 

6.96″

Width: 

14.01″

Depth: 

5.9″

Weight: 

14.1 lbs.