500 Watts + 35 lbs. = Great Combo for Gigs
Boasting a pair of 10″ HyDrive speakers driven with 500 watts of Class D amplification, the Hartke HD500 bass combo amp delivers voluptuous bass tones in a surprisingly lightweight 35-pound cabinet. The top-mounted control panel offers a 3-band EQ to shape your sound for any genre, plus Hartke's Shape EQ knob with a variable filter for even more sonic control. Use the XLR direct output to send your bass tone direct to a sound system or recording chain. Complete with a headphone output for private practice sessions, plus an aux input to jam along with backing tracks, the Hartke HD500 bass combo packs big performance into a conveniently-sized combo.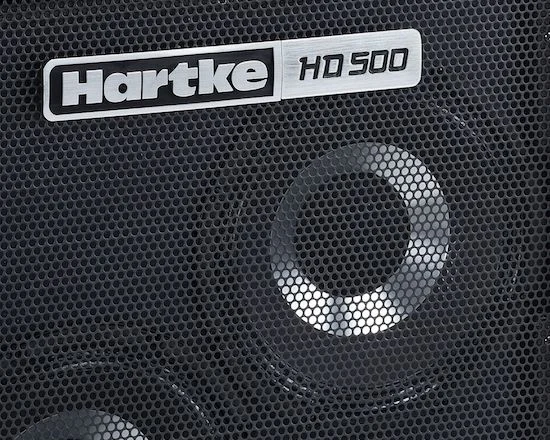 Paper and aluminum cone make an impressive sonic combo
So what makes the Hartke HD500 bass combo stand apart from competitors? It all revolves around the HyDrive speaker design. The HyDrive speaker uses paper around the outside for traditional warm, round tones. But the middle is aluminum, adding trademark Hartke zing to your upper mids and highs. The result is a portable bass amp that offers an impressive sonic range that's suitable for practically any style of music.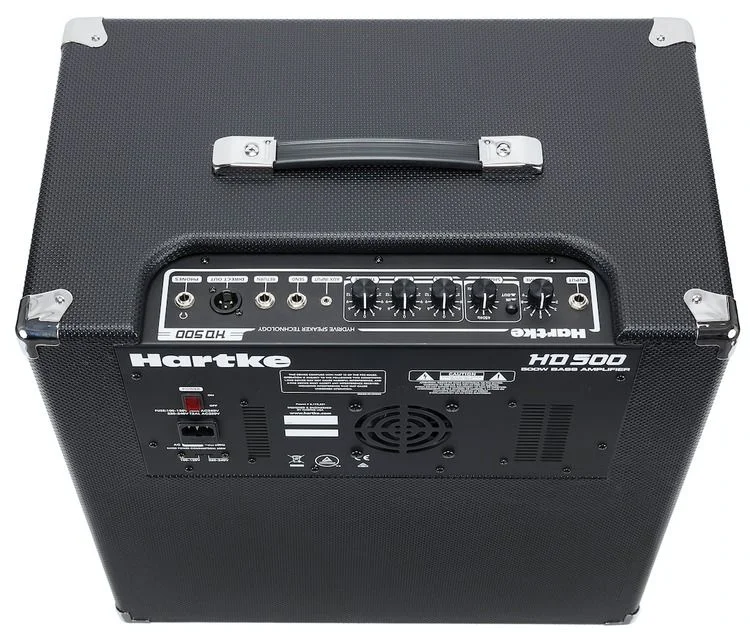 Lightweight and easy to gig with
The HD500 bass combo is designed to be a gig-friendly option for touring and traveling musicians. Patented HyDrive speakers and a 500-watt Class D power amp help to keep weight down for night-after-night portability.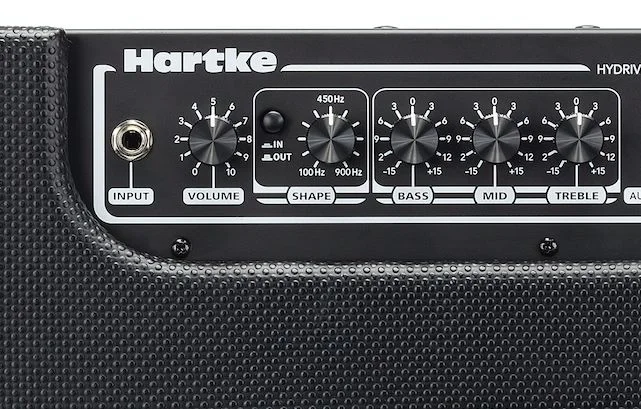 Shape control gives a one-touch boost at 100–900Hz
Bassists like using the HD500's Shape control in addition to its 3-band EQ to enhance a selected frequency range with the press of a button. This is helpful when you want a bass boost or low-mid bump for a certain section of a song without disrupting your EQ settings. Cycle between 100–900Hz to define the sound you want, then engage any time your tone needs a little sweetening.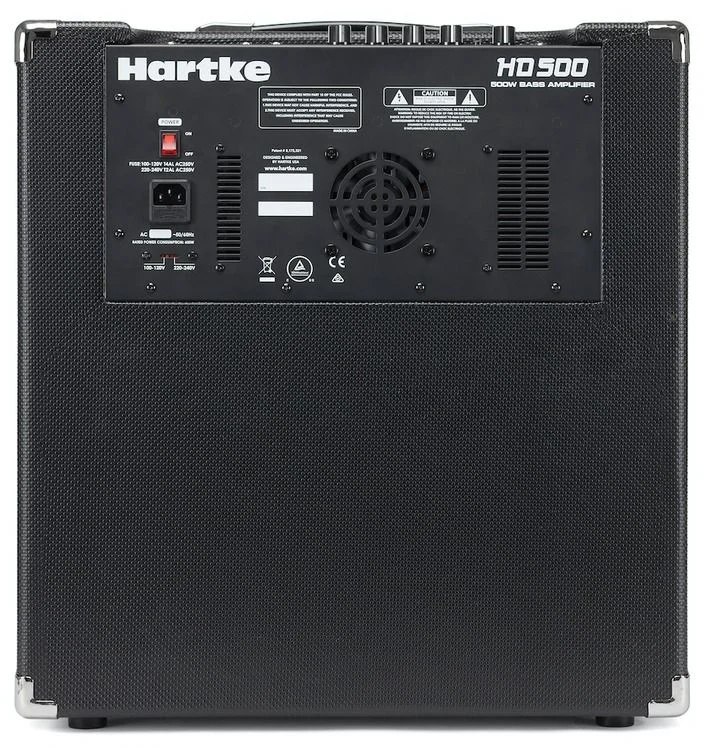 Hartke HD500 Bass Combo Amp Features:
Portable and rugged combo for gigging and recording
10″ speakers and 500 watts of power deliver impressive punch
HyDrive uses combination of paper and aluminum cone for wide-ranging tone
3-band EQ for tone shaping
Shape EQ control allows you to further fine-tune your sound
Effects loop makes it easy to add FX
1/8″ stereo aux input allows for stereo line level devices
1/4″ mono headphone output for private practice sessions
Tech Specs
Type: 

Solid State

Number of Channels: 

Single

Total Power: 

500W Peak Class D

Speakers: 

2 x 10″ HyDrive Paper/Aluminum cone speakers

EQ: 

3-band EQ, Shape control

Inputs: 

1 x 1/4″ (instrument), 1 x 1/8″ (aux in)

Outputs: 

1 x 1/4″ (headphones), 1 x XLR (DI out)

Effects Loop: 

Yes

Power Source: 

Standard IEC AC cable

Height: 

20.27″

Width: 

12″

Depth: 

19.6″

Weight: 

34.39 lbs.