Wireless Guitar Made Easy
Looking to cut the cord between your axe and your amp? The Line 6 Relay G10S makes it easy. Ideal for guitar, bass, and any other instrument with a high-impedance output, this digital wireless system connects your gear up to 130 feet away via frequency-agile, multiple-redundant, 24-bit digital audio. Automatic or manual frequency selection gives you plenty of setup options, and wireless signal and battery level LED indicators make sure you stay up and running. Get your sound anywhere you need it with an XLR direct output. Emulate the sound of a 10- or 30-foot cable with the Cable Tone switch. You'll appreciate the Relay G10S's ease of use, and with up to eight hours of continuous operation, battery life is never an issue.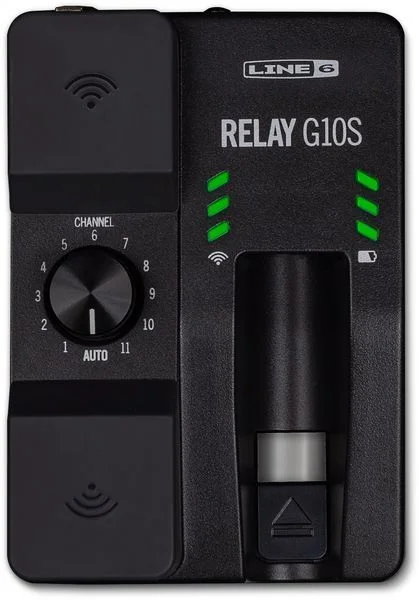 Instrument wireless made blissfully simple
Other than switching it on, the Relay G10S is as easy to use as an instrument cable — no setup fuss, no fumbling with menus, just plug-and-play simplicity. You don't even need to mess with batteries, thanks to the built-in Li-ion battery onboard the transmitter, which plugs into the dock to charge. And since you get up to eight hours of run time with 200 hours of standby time, you don't even need to panic about charging your Relay G10S mid-show.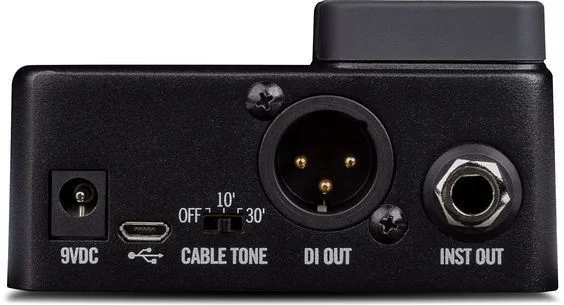 Cable Tone: the sound of a cable — without the cable!You don't want to be tethered to your amp, but that cable sure adds an undeniable character to your tone, doesn't it? Excellent news! The G10S sports Line 6's selectable Cable Tone technology, which simulates the subtle tonal effects of a standard 10- or 30-foot cable, giving you the freedom to rock from stage left to stage right — while sounding just like you're wired.
Line 6 Relay G10S Digital Wireless System Features:
Simple, affordable, and reliable instrument digital wireless system with 130′ range
Automatic setup means you never have to mess with menus or settings
Manual frequency selection for using specific channels
Redundant 24-bit digital wireless provides highly dynamic, clear, and reliable transmission
Transmitter runs for up to 8 hours per charge and charges in the docking receiver
Wireless signal and battery level LED indicators
XLR direct out for getting your sound anywhere you need it
Cable Tone switch emulates the sound of a 10′ or 30′ cable
Ideal for guitar, bass, or other instruments with high-impedance outputs
Tech Specs
Configuration: 

Wireless Instrument System

System: Simultaneous Channels: 

10 Channels

System: Analog/Digital: 

Digital

System: Frequency Range: 

2.4 GHz

System: Operating Range: 

130 ft. Line-of-sight

System: Channel Selection: 

Auto/Manual

System: Frequency Response: 

10Hz-20kHz

Instrument Cable: Connector 1: 

1/4″

Transmitter: Form Factor: 

Plug in

Transmitter: Dynamic Range: 

>110dB (A weighted)

Transmitter: Battery Type: 

Built-in Rechargeable

Transmitter: Battery Life: 

8 hours

Transmitter: Connector: 

1 x 1/4″

Receiver: Antenna Type: 

Fixed

Receiver: Displays: 

LED

Receiver: Type: 

Pedal

Receiver: Outputs: 

1 x XLR, 1 x 1/4″