The Premium Gold Flat Patch Cable is the most luxurious series of the EBS famous flat patch cables!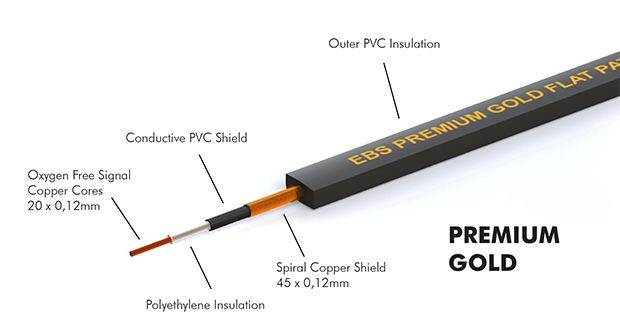 If you have ever struggled with limited space on your pedalboard, we share the pain with you.
To end the frustration we've designed the truly unique, super compact and affordable EBS Flat Patch Cables.  Cables that won't let you down on sound and flexibility, and at the same time reduce the space needed between pedals to a minimum.
The elegant Premium Gold (PG) series are the most exclusive and features 24K Gold plated contacts with even smaller housing than the original EBS PCF-Deluxe cables.
Double shielded cables and very low resistance keep your signal path clean and strong all the way through the pedalboard.
Extremely compact size and flexible cables ensure effective use of ALL space on your pedalboard.
Available in four lengths to cover your needs; 10, 18, 28 and 58 cm.
Available models:
PCF-PG10, 10 cm
PCF-PG18, 18 cm
PCF-PG28, 28 cm
PCF-PG58, 58 cm
Construction & Technical Specifications:
Contact house: 24 Carat Gold Plated
Double Shield: Conductive PVC and Copper shield protect effectively from both LF and HF interferences.
Conductor: Flexible copper conductor low voltage audio signal system
Operating Temperature: -15ºC to +70°C
Outer Insulation: PVC (Polyvinyl Chloride)
Signal Copper Cores: 20 x 0,12mm
Signal Insulation:  PE (polyethylene)
Twisted Copper shield:  45 x 0,12mm
Capacitance Cond./Shield: < 10 pF/decimeters
Conductor Resistance: < 10 mOhm/decimeters
Dimensions:  5,3 x 2,5 mm (rectangular cable), 22,0 x 11,5 x 5,0 mm (contact house)
EBS Professional Patch cables are designed and developed by EBS in Sweden
and assembled in China.
Patent pending for USA and EU. Patented in Sweden.