The Perfect Tonal Enhancement for Any Acoustic Guitar
Before you hit the stage for your acoustic gig, don't forget your Zoom AC-3 Acoustic Creator. This enhanced direct box takes your sound to the next level by restoring the tone that's lost through your acoustic guitar's pickup. Choose from 16 Source Guitar presets tailored to your specific instrument, then refine your sound further with 15 Target Guitar presets matched to your guitar's exact model. Finalize your sound with a 3-band EQ and single-knob compressor, then polish it to perfection with nine reverb, delay, and chorus effects. Complete with a 9dB boost, anti-feedback control, stereo outputs, and a built-in tuner, the AC-3 is everything its little brother, the AC-2, is and more.
Acoustic Creator Series
Tonal enhancement that's tailored to your exact guitar
Adapting the AC-3 to your specific instrument is easy. First, select one of 16 Source Guitar presets like Dreadnought, Jumbo, or Parlor, then choose whether you have a piezo or magnetic pickup. After that, select one of the 15 Target Guitar presets like D-Eighteen, Humming Bird, or J-Forty Five. That's it — you're dialed in! You're ready to experience a lush, resonant sound that's faithful to your guitar's original tone. Beyond that, the AC-3 takes all of the guesswork out of gain-staging — its Volume control affects input gain and output level simultaneously.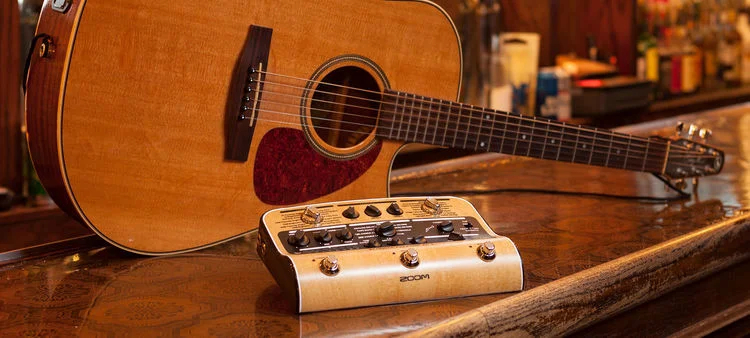 Source Guitar Presets:
Round Shoulder
Square Shoulder
Jumbo
Parlor
Single Cutaway
Resonator
Upright Bass
Mold
Dreadnought
Orchestra
Triple 0
Double 0
YMH
Silent
12 Strings
Nylon Strings
Target Guitar Presets:
J-Forty Five
Humming Bird
Dove
F-Fifty Five
Super Jumbo
00-Eighteen
00-Twenty One
LG-Two
000-Eighteen
000-Twenty Eight
OM-Eighteen
OM-Twenty Eight
D-Forty Five
D-Eighteen
D-Twenty Eight
Enhance your sound with ultra-smooth compression
The guitar is a dynamic instrument. That's why the AC-3 comes with a compressor. It smooths out your playing, resulting in a full, balanced sound. On top of that, by virtue of its one-knob design and LED indicator, it's easy to adjust your dynamics parameters — even during a live set. And if you really need a volume bump, you can hit the Boost footswitch for an additional 9dB of gain — it makes switching between strumming and fingerpicking virtually seamless.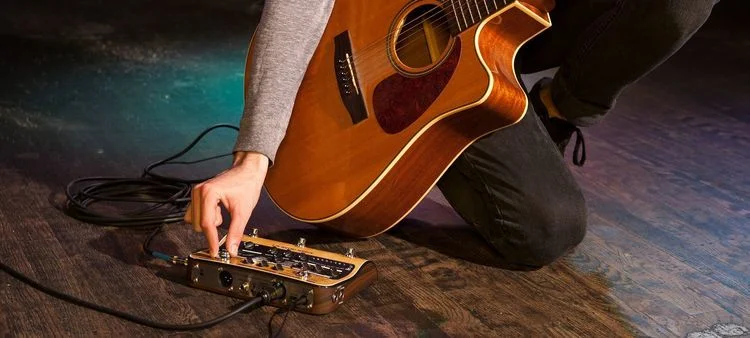 Polish your sound with onboard effects
The AC-3 comes loaded with nine different effects, such as delay, chorus, and reverb. These algorithms were developed by Zoom specifically for acoustic instruments, and they add a beautiful depth and color to your sound.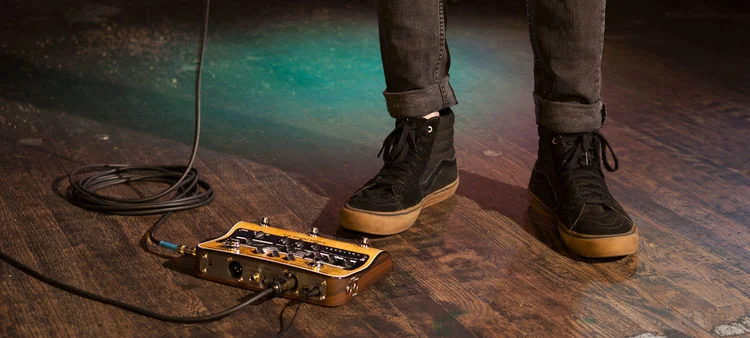 Plus, you can download even more faithfully recreated amp/cabinet combinations such as Fender Bassman, Hi-Watt Custom 100, Mesa Boogie Dual Rectifier Orange Channel, Fender '65 Deluxe Reverb, and Orange Graphic120—available now with more being released every month.
Effects:
Chorus 1
Chorus 2
Tape Echo
Analog Delay
Delay
Hall Reverb
Mod Reverb
Tremolo
Pad
Zoom AC-3 Acoustic Creator Features:
High-quality preamp restores the tone that's lost through your acoustic pickups
16 Source Guitar presets are tailored to your specific instrument
15 Target Guitar presets match your guitar's exact model
Volume control affects input gain and output level simultaneously
Single-knob compressor smooths out your playing
3-band EQ for sculpting your tone
9 onboard effects including delay, chorus, and reverb
Stereo outputs enhance your guitar tone and effects
Eliminate feedback with the anti-feedback button
Ground/lift switch removes unwanted hum and buzz
9dB boost allows you to switch from strumming to fingerpicking seamlessly
Built-in tuner with easy-to-read LED meter
Specification Sheet
Pedal Type: 

Acoustic DI Preamp with effects

Inputs: 

1 x 1/4″ (instrument)

Outputs: 

2 x XLR, 2 x 1/4″, 1 x 1/4″ (anti-feedback footswitch)

USB: 

1 x Micro-B

Effects Types: 

15 Acoustic Guitar models, Delay, Chorus, Reverb, Compression

Features: 

Tuner, Anti-feedback control, Source Guitar presets

Power Source: 

9V DC 500mA power supply (included)

Batteries: 

2 x AA batteries (3 hours run time)

Height: 

2″

Width: 

6.2″

Depth: 

4.2″